Database & File Replication
Consollidation and Distribution
What is Data Replication?
Data replication is real-time processing and sharing of changes that can improve accessibility, reliability, and fault tolerance. An architecture with real-time information and on-demand processing allows businesses to efficiently manage and access data. Change data capture and data integration enable cross platform synchronization of data across the enterprise, enriching data warehouses, mobile devices, and cloud-based applications. Data replication can help with the following:
Eliminate custom integration or traditional batch ETL systems
Leverage timely information with business intelligence and decision support systems
Integrate disparate sources of data across the enterprise
Improve access performance and continuous data availability
Optimize resources by streaming changes instead of massive batch movements
Consolidation and Distribution
Data from multiple databases are synchronized and combined. This system can scale to thousands of databases arranged into one or more tiers of synchronization. The replication can withstand low-bandwidth connections and periods of network outage. Secure protocols and the use of pull or push synchronization allow replication across firewalls. Conflicts can be handled at the central database or configured to resolve automatically using rules. Remote locations sync with multi-master replication, with some locations receiving shared data or subsets of data.
Analytics and Reporting
The operational database is replicated to a data warehouse or a reporting database, which can offload work from the main database. The main application continues to use the operational database, while the data warehouse is used for reporting and analysis. Changes made by the application are captured and synchronized with real-time processing, making data available immediately. The data can be filtered, transformed, and supplemented to enhance reporting.
Bridge Between Databases
Data is replicated securely from an internal operational database to an external database located behind firewalls or within a DMZ. Data can be transformed during real-time processing to match the structure of the target database. Some reasons to bridge databases are integrating a website database with internal systems, sharing information with another company, or keeping two versions of an application in sync as a migration strategy.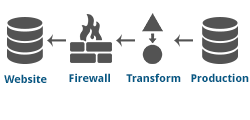 Database Backup and Failover
Critical database applications are protected by continuously replicating to a standby database. Changes are sent to the standby, which may be on a local or wide area network. During an outage, the application is reconnected to the standby database. Once the production database is available again, changes replicate to it from the standby. The failover can also be used to perform planned maintenance and system upgrades.
High Availability and Load Balancing
Users can access data from the database that is running and available from the location that is closest to them geographically. Access requests are distributed across multiple databases to balance the load and improve performance. This architecture enables scalability to handle a large number of requests for the database.
Disconnected Operation
The application uses a local database to access data and make changes, which could be a mobile device on a cellular network or a server connected to a wide area network. Users can work offline during a network outage, and data synchronization keeps the database updated when the network is available again. Conflict management is used to resolve changes in conflict automatically or to request that the user to choose the final change.
Cloud Integration
Replicate data to the cloud or across cloud providers and databases. Distribute copies of data changes between regional data centers for local support of applications. Use multiple availability zones and keep databases in sync for high availability. Replicate from on-premise or enterprise databases into the cloud to enable a mobile application. Provision new database instances and add them to replication to scale on demand.
Keyword Research Document


We identify important keyword terms relevant to your industry, service, region, target audience and competitors to optimize your website for traffic and rankings.
Website Audit


Here, an extensive analysis is performed that puts your site through multiple tests, identifying shortcomings and outlining results along with recommendations.
Content Plan

Our team of content marketing experts suggest engaging, keyword-rich topics, keeping in mind your marketing objectives, brand voice and target market.
Content Creation

Once you approve these suggested topics, our writers create keyword-optimized content using credible links and resources after thorough product and industry research.
Weekly Activity Reporting

This is a report that outlines all activities—postings, back-linking activities, competitor analysis, business profile listing submissions—performed, and strategies implemented on your website during the week.
Weekly Ranking Reporting
This detailed document reports all progress on your website—the performance and ranking of your targeted keywords, the organic traffic on your website, conversion rate, page speed insights, bounce rate, future recommendations, etc.
Completion Report
We then send in an in-depth, extensive completion report outlining the progress of your website along with recommendations for the next cycle.
Protect your business and your data with a proven replication solution.
Ever think about what would happen if you lost your database?