We know there are many more factors that significantly influence the success of your business other than just having an amazing website.
That's why we have created a portfolio of services that allow us to manage your entire online presence.
We deliver web design projects and brand recognition for clients of all sizes and across any industry.
We are data driven, thrive on creativity, and are passionate about innovative websites.
Capabilities
We have created a portfolio of services that allow us to manage your entire online presence.
Clients we work for
Our clients.
Health Without Risk, 2019
www.healthwithoutrisk.com
Kansas City Food Trucks, 2021
www.kcfoodtrucks.com
Crane Brewing, 2021
www.cranebrewing.com
Marine Corps League, 2020
www.simpsonhoggatt984.com
Increasing H.O.P.E, 2022
www.increasinghope.org
Damage Hitter, 2019
www.damagehitter.com
Ultimate Wine Tours, 2021
www.ultimatewinetours.com
Barnabei Chiropractic, 2022
www.drbchiropractic.com
Forerunner Signs & Graphics, 2022
www.forerunnersigns.com
Motivate Her SC, 2023
www.motivatehersc.org
Wellness By Design Project, 2019
www.thewellnessbydesignproject.com
Simplex KC, 2021
www.simplexkc.com
Life Priority, 2021
www.lifepriority.com
MO Korean War Veterans Memorial, 2021
www.mokoreanwarmemorial.org
Mr. Bevis, 2020
www.mrbevis.com
Navy League Kansas City, 2020
www.navyleaguekansascity.org
Maxwells Club, 2021
www.maxwells.club
HM Educational Foundation, 2022
www.hmedfoundation.org
Testimonials
What our clients say
about our services.
Web Design, Maintenance, Online Reviews
"Great people and a great company. Got my website built quickly and it looks great. Very good communication and very quick to respond. Thank you for working with me! I would highly recommend Ranked Brain."
Web Redesign & Ongoing Maintenance
"We were referred to Ranked Brain by one of our employees, and thank God we were. Our previous website developers had over-promised and under-delivered, and practically brought our systems to a standstill. Ken was able to help us get everything under control again, and meet all of our needs and more!"
Web Design, Maintenance & Online Reviews
"The team at Ranked Brain is a solutions minded digital media agency and organization that does it right. The attention to detail and ability to develop, implement and provide solutions for products, brands and more importantly people. Ken and his team personally can take it across the finish line for companies of any size."
Web Design, Hosting & Maintenance
"We are very pleased with our new website that was designed to support the needs of our local area Navy League Council. Thanks to the professional guidance of Ranked Brain our new business platform provides our members a variety options that enhances their membership. The website is easy to use and responds fast to all inquires. Ranked Brain responded quickly to all our questions during the design and they wanted us to have a product we can be proud of. They are the best!"
Community Support
"Ken and his team helped get the Marine Corps League and local Kansas City Toys for Tots campaign set up with social accounts and the tools to manage them. His support was invaluable and speaks not just to his team's abilities, but also to their generosity in their community."
Website Maintenance & Online Reviews
"Ken and Ranked Brain have been a complete business solution for us. Creative, task driven, punctual, and motivated to bring your business to its potential with you."
Web Design, Maintenance, Social Media & Online Reviews
"Ranked Brain has been doing all our internet marketing, web hosting, reviews, web presence, etc. since April 2019. During our time with Ranked Brain, our patient numbers have increased significantly, our website has over 300% more traffic, and after implementing the review software, our reviews have increased substantially! I highly recommend Ranked Brain for all your internet and social media needs. They are very professional, efficient and quick to deliver on all the services they offer."
Recognition
Web Design & Online Presence in Kansas City

Looking for the best web design agency in Kansas City for your next project? Ranked Brain is a full-service web development and web design agency located in the greater Kansas City area.
Business Person of the Year 2020-2021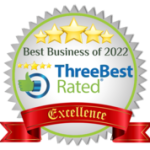 Stephanie is a creative artist and founding partner, providing smart & flexible digital services.

Alex is a creative artist and founding partner, providing smart & flexible digital services.

Stacey is a creative artist and founding partner, providing smart & flexible digital services.
Collaboration
Got a project?
Let's talk.
We're a team of creatives who are excited about unique ideas and help companies to create an amazing identity by creating robust business platforms.