I'm sure you're wondering, as many others have, do review responses really help with getting new customers and Local SEO results? Well, the short answer is yes it does help with both aspects. After reading this article, if you are interested in a free 30 day trial of our automated solution all you have to do is request that we get it setup for you. After that we will take care of everything for you after a few questions.
Review Responses
Customers trust online reviews, 92% of them are going to read reviews before making the final decision to make a purchase.
Show current and potential customers that you engage with and value customer feedback by responding to reviews that have been written for your business. After all, a lot of customers are going to form their initial impressions of your business based on your reviews. If a business takes the time to thank happy customers or offer an apology to unhappy customers and attempt to fix the problems that were experienced, they show just how important customer service is to them.
Statistics show exactly how important review responses are, 53% of customers expect a business to respond to them on a review site. Responding to reviews also increases the number of customers that will recommend your business to people that they know. The research shows businesses experience a 16% boost in customer advocacy after they deal with negative reviews. So, again, responding to reviews is extremely important to getting new customers and not to mention the boost your business gets from responding.

Review Responses and Local SEO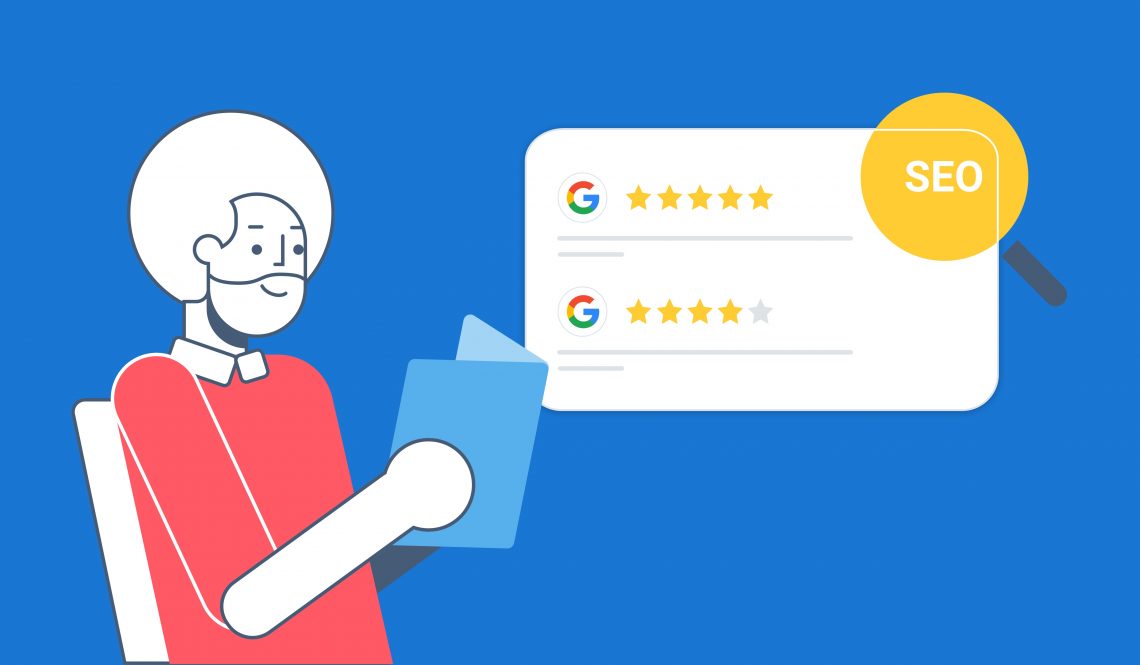 You are not just helping your business with how customers view you by responding to reviews, it helps with search engines as well. Google is on a mission to ensure that customers are getting the best results for search queries. Delivering reliable search results is often influenced by the exact same factors that a customer would use to determine if a business was trustworthy.
Diversity, recency, and the quantity of reviews are all signals that are considered by Google's search algorithm. So, if you want to make sure that your business is being discovered, start paying attention to these factors and how well you are performing based on the criteria.
Google does not just take those reviews factors into consideration. Just remember, the reviews are going to help your business appear more trustworthy to customers. That is going to naturally help you with the results from search engines as well.
Taking it straight from the Google My Business support page, Google states that businesses should "interact with customers by responding to reviews that they leave about your business."  Responding to reviews that customers leave about your business shows that you value your customers and the feedback that they leave about your business." This is followed by "high-quality, positive reviews from your customers will improve your business's visibility and increase the likelihood that a potential customer will visit your location."
When you respond to reviews, the rewards your business will get from customers and Local SEO are going to pay dividends. Your business is going to have a much higher chance of turning up in the local pack results, which are the first 3 businesses that show up in the Google search queries
Let's be realistic, responding to reviews can sometimes be a difficult task. Giving each review a personalized response can be very time consuming. With all of the work that running a business requires, responding to reviews can be something that easily gets dropped in priority or simply forgotten about.
Not only are the review responses important, but the time-frame that you take to respond to them is also a factor. Research has shown that customers expect businesses to respond to reviews within 24 hours, especially if it is a negative review. If you let that initial 24 hours slip by without responding, chances are it's too late to change the mind of the reviewer that left it.
So, how can you set your business up for success with all of these expectations around reviews, responses, SEO benefits? There are solutions available that will help automate some if not most of these tasks and they can help improve your brand perception at the same time, which will help attract new customers.
Tools That Can Help Your Business Stay on Top of Review Responses
Responding to your business reviews on large platforms like Google and Facebook can already be difficult enough. But business owners have a lot of other websites to worry about, not just Google and Facebook. There are hundreds of different review sites on the Internet that customers could potentially be leaving reviews on.
Staying on top of your customer reviews is important to manage brand perception and help your business rank higher on Google and other search engines.

Automatic Review Notifications
Staying on top of customer reviews is important to brand perception and helps your business rank higher on Google and other search engines. With so many reviews being posted about your business all around the internet, it can be hard to keep track of all of them. Just paying attention to Google and Facebook is hard enough, but you also have to make sure you're responding to reviews from the hundreds of smaller review sites where customers may be posting about your business.
For negative reviews, it's crucial to give customers a response as quickly as possible. If you wait too long, it might be too late and the customer might have a bad opinion about your business that cannot be changed. However, if you do get to the customer in time, you can turn their negative experience into a positive one. That means you need to know the second a bad review is posted.
Ranked Brain's solution gives businesses automatic review notifications when reviews are posted. In your business's dashboard, you can monitor more than 150 sites. You can choose the sites that are most important to you, then have the ability to respond automatically. You can also choose specific situations to get notifications.
With automatic review notifications, you can make sure that you are responding to reviews within 24 hours. While it's easy to miss reviews, automatic notifications ensure that every single review you want to see is brought to your attention.
Review Templates and Automated Responses
You and your employees are busy with all the work it takes to run a business. You don't have time to respond to every review. With response templates, you don't need to.
Our solution has response templates that you can use as soon as you alerted of a review. We build a variety of positive and negative response templates to lessen the work that businesses need to do.
Some people worry that templates might quickly get repetitive. Ranked Brain gets around this problem by offering lots of different templates and the ability to create your own. You can also set rules so that the same template is not used for consecutive reviews.
You also have the option of automating the review response process entirely. You can set auto-response rules so you can stay focused on your business operations while promptly responding to every review. With automated responses, you can automatically respond to certain customer reviews with templates.
Of course, response templates and automated responses don't work great for every situation, as we'll discuss in more detail in the next section. We allow business owners to set auto-response criteria so that you can choose which reviews to respond to personally.
Response templates can help your business respond to some feedback. Unfortunately, they don't work all the time. Typically, we only recommend businesses use review responses when they receive 1-star and 5-star reviews.
Response templates work great when a customer is uncritically praising your business. In situations like these you usually just need to give a polite "Thank You" message. When a customer leaves a 1-star review, you typically need to apologize and direct them to an offline forum to handle the complaint.
Unfortunately, automated responses don't work in more ambiguous situations. For example, think about 3-star reviews. A lot of the time, the reviews praise some aspects of your business's service and criticize others. A restaurant might receive a 3-star review that says "Although the food was great, the wait was long and the service was awful."
Reviews like these typically can't be solved with templates since they are partially a compliment and partially a complaint. A personalized review response must thank the customer for the compliment while also apologizing and promising to fix the problem the customer was upset about.
Because you're dealing with ambiguity when you have 2-star, 3-star, or 4-star reviews, automated review responses aren't going to cut it. Most of the time, personalized review responses are necessary for these situations.
Still, it's easy to fall behind on these responses when you and your employees are busy with your usual tasks. Even if you assign the responsibilities of responding to reviews to an employee, it's hard to track how often and how quickly responses are coming.
Ranked Brain also offers a dashboard to manage your online reviews. You can see progress, set goals, where are your business reviews located, and track your performance.
There's no one tool that can magically solve the problem of responding to reviews. But by using several tools together, you can make the process easier for you and your employees. With automatic notifications, automatic responses, and review ticketing, businesses can effectively manage customer perception and increase search ranking.
Get your 30 day free trial today!
As always, drop me a line if you have questions and be on the lookout for our next blog.
Ken G.